Upcoming Events

Coldwell Banker BBQ Tailgate Benefit – Tues. Oct. 24th 11:30am-2pm
More events coming soon!
Would you like to host an event to benefit Sharing God's Love? We can help you with that!
Please contact our office if your church, Sunday school class, small group or neighborhood association would like to host a food drive or event at 732-3188. All ideas, big or small, are appreciated.  Help us #LoveYourCommunity !
…with the Coldwell Banker St. Andrews Branch Real Estate Office on Tuesday, October 24th from 11;30am-2pm, 459 Saint Andrews Rd, Columbia, SC 29210. Come get mouth watering BBQ and fixins for a love donation that benefits Sharing God's Love!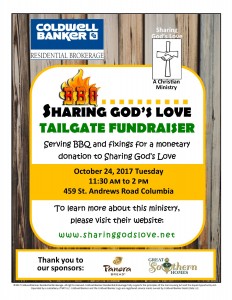 Also, check out our list of wonderful sponsors of our 2017 Annual Benefit Golf Tournament!