SOUPER BOWL OF CARING SUNDAY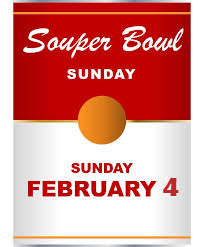 Sunday, February 4th, 2018
150 million people will tune into the Super Bowl while 48 million Americans struggle with hunger. Make a play by collecting canned goods for Sharing God's Love.
Would your church, youth group, small group or neighborhood
like to participate in Souper Bowl Sunday? Ask us how.
Thank you so much for caring!!