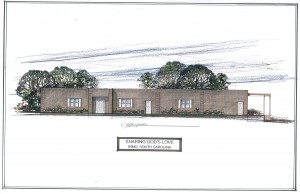 We are so excited to share with you an artists conceptual drawing of our new, bigger and better facility, the goal of our Growth Campaign! If you have been by our ministry before you may think this isn't a big change but it truly is. This growth will enable us to remain close to the communities we serve and will increase our ability to serve them well, now and in the future. We will have more and safer parking,  valuable storage space additions, and better waiting rooms for our families and traffic flow through our service areas.
We hope you will join us in making this goal a reality as we are Raising Money to Raise Hopes! Come visit us to see firsthand how we, with your help, are making a difference in our area.
Donate now through our Donate button at the top of the page (specify "The Need". Thank you so much!