"They got me food and clothes and back on my feet.
I got behind on my bills when I had to go to the hospital. Then I lost my job because I had to take time off. The people at Sharing God's Love helped me feed my family and keep the lights on while I got my life back in order. They were compassionate, prayed with me, and never made me feel bad about needing help."
Read how we help families in crisis
Sharing God's Love provides area families in need with food, clothing, financial support, and spiritual support.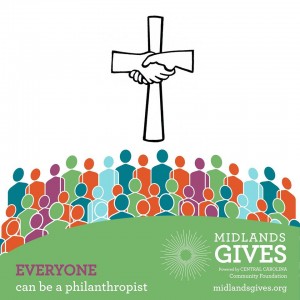 Midlands GIves is the biggest e-giving event of the year where EVERYONE can be a philanthropist! With a gift of $20 or more, you can help us achieve our goals of reaching more people in need in our community as well as enhancing our efforts to those we are already serving. Follow the link to learn more about our Growth Campaign "The Need"; raising money to raise hopes.
Your #MidlandsGives donation is a direct investment in our community. We can't wait to see the impact your donations have on Sharing God's Love this year!
Current Needs
Sharing God's Love tries to provide basic necessities as well as food. The following items are suggestions, but we are always grateful for whatever you choose to donate.
Canned Fruit, canned beans - (all kinds except for green beans), lunch combos, spaghettios, raviolis, chili, pasta, canned, dried or boxed potatoes, jelly, soup, toothpaste.
We also are now collecting gently used Spring/Summer clothes.