"They got me food and clothes and back on my feet.
I got behind on my bills when I had to go to the hospital. Then I lost my job because I had to take time off. The people at Sharing God's Love helped me feed my family and keep the lights on while I got my life back in order. They were compassionate, prayed with me, and never made me feel bad about needing help."
Read how we help families in crisis
Sharing God's Love provides area families in need with food, clothing, financial support, and spiritual support.
8th Annual Benefit Golf Tournament Date Change to Sept. 18th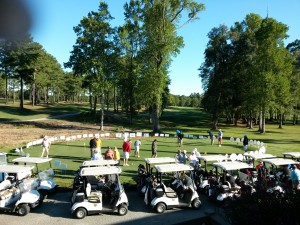 Sharing God's Love Benefit Golf Tournament is now Monday, Sept. 18, 2017 due to Hurricane Irma. Same event details.  The Spur at Northwoods, 201 Powell Road, Columbia.  Shotgun start 9:00 am – Captain's Choice. Includes 18 holes of golf, cart, goodie bag, drinks, breakfast, snack and lunch.
Registrations and Sponsorship Opportunities now open. Registration forms available on our Events page. Forms also available at our facility at 147 Friarsgate Blvd, Irmo, SC or from George Howe.
Current Needs
Sharing God's Love tries to provide basic necessities as well as food. The following items are suggestions, but we are always grateful for whatever you choose to donate.
**Items are currently needed
FOOD PANTRY
_ Grits**     Cereal**     Oatmeal**
_ Jelly**     Peanut Butter
_ Sugar     Flour     Juice
_ Tea    Coffee**
_ Rice     Pasta Sauce & Pasta**
_ Canned tomatoes**
_ Canned Meat (Tuna)
_ Canned Vegetables    Canned Fruit or Fruit Cups**
_Mac n Cheese**    Pork n Beans**
_ ziploc freezer bags- quart & gallon size (no sliders)
PERSONAL CARE
_ Shampoo
_ Deodorant
_ Toothbrush**
_ Toothpaste**
_ Toilet Paper
_ Bar Soap**
OTHER
_ Laundry Detergent
_ Dish Detergent/Soap
_ Diapers- size 4 & 5**
_ Feminine Care_Toilet Paper
_Back to school clothes - all sizes (gently used)**