"They got me food and clothes and back on my feet.
I got behind on my bills when I had to go to the hospital. Then I lost my job because I had to take time off. The people at Sharing God's Love helped me feed my family and keep the lights on while I got my life back in order. They were compassionate, prayed with me, and never made me feel bad about needing help."
Read how we help families in crisis
Sharing God's Love provides area families in need with food, clothing, financial support, and spiritual support.
…with the Coldwell Banker St. Andrews Branch Real Estate Office on Tuesday, October 24th from 11;30am-2pm, 459 Saint Andrews Rd, Columbia, SC 29210. Come get mouth watering BBQ and fixins for a love donation that benefits Sharing God's Love!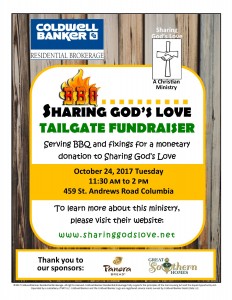 Also, check out our list of wonderful sponsors of our 2017 Annual Benefit Golf Tournament!
Current Needs
Sharing God's Love tries to provide basic necessities as well as food. The following items are suggestions, but we are always grateful for whatever you choose to donate.
Canned Fruit, canned beans - all kinds except for green beans, lunch combos, spaghettios, raviolis, chili, pasta, canned, dried or boxed potatoes, jelly, soup, toothpaste.
We also are now collecting gently used Fall/Autumn clothes.